I've intentionally saved chakra for last. The reasons for this are really two-fold. One, chakras (the name given to the ammonite shell-spiral) are probably the most iconic characteristic of Shaligram stones and the vast majority of devotees and practitioners want their shilas to have clear, obvious, and visible chakras. And two, chakra is the only consistently mentioned trait in every Shaligram interpretive tradition. Which is to say that if anything could be said to "define" Shaligram reading, it's the presence and absence of spiral markings.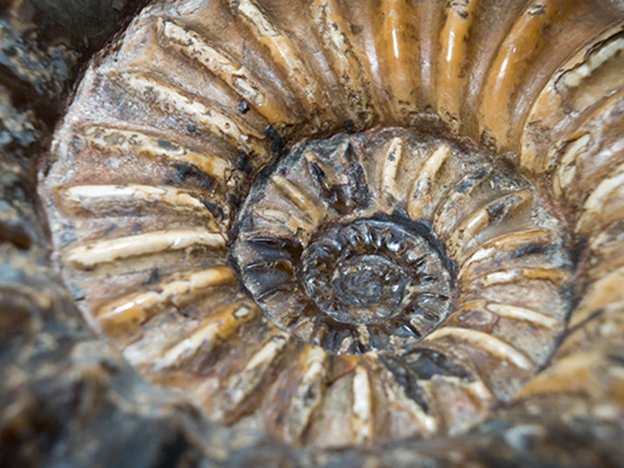 But as with any Shaligram characteristic, chakra exists on a kind of spectrum. The first concern in Shaligram identification is how many chakras a shila has followed by what state of completeness those chakras are in. For example, the Sudarshan, Lakshmi-Narayan, and Surya Shaligrams all have one, large, prominent, chakra. But in the case of Sudarshan, the chakra is sharp and clear and is visible all the way through to the center.
The Surya Shaligram then has essentially the same thing, but in reverse (i.e., the chakra is impressed into the stone, not raised above it).

*In fossil paleontology this is called the cast and the mold.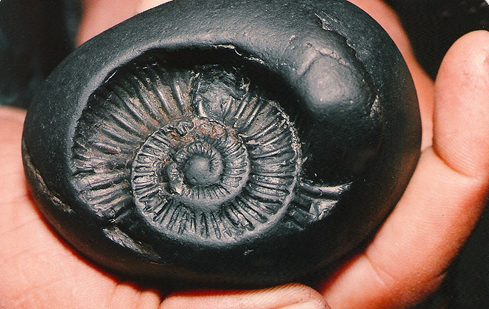 The Lakshmi-Narayan Shaligram, on the other hand, also boasts a single main chakra but one that is partially obscured in the center by either a smooth, shale, nodule or by flattened wearing.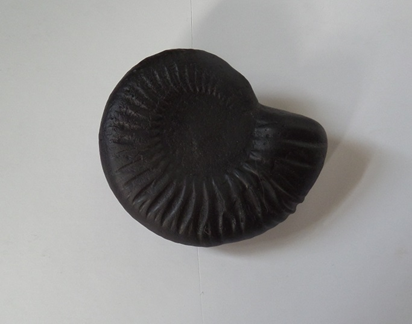 In yet one more case, the Vaikuntha Shaligram also contains only a single chakra. But within the spiral of this Shaligram stone, the chakra contains at least one "step" wherein parts of the cast and the mold are both still visible. This gives the central chakra a "two-layered" appearance that indicates its association with transcending the material world into the spiritual world beyond. Hence, Vaikuntha — the celestial abode of Vishnu.
But all of this, as you may have noticed, still only refers to Shaligrams with a single chakra! There are, of course, Shaligrams with two, three, or even up to ten and twelve chakras. Each of which contains multiple distinctions and variations depending on the Shaligram interpretive tradition one uses. It is fair to say, however, that the most common and most sought-after Shaligrams tend to display either one or two chakras. Lakshmi-Narayan Shaligrams, such as the one pictured above, can have one chakra and a smooth, featureless, back or another chakra on the opposite side (for a total of 2). They also have a second variation.
The alternative Lakshmi-Narayan Shaligram has two internal chakras and a slightly obscured or worn central column between them (see below). I include this Shaligram to note specifically that chakras are not always external and that internal chakras are just as common. What makes for troublesome identification is that the Puranic texts don't distinguish between the two types. A Lakshmi-Narayan Shaligram with internal characteristics isn't described any differently than a Lakshmi-Narayan Shaligram with all external characteristics.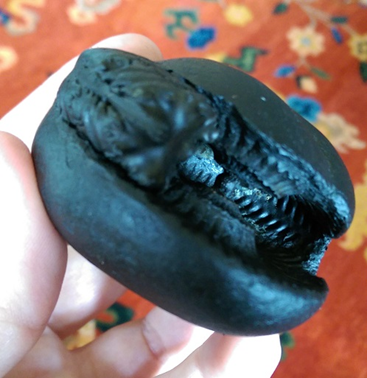 Multichakra Shaligrams are much trickier, unfortunately, and there is often a fair amount of debate when it comes to identifying some of the more esoteric variations. The Praanatoshani Tantra, for example, lists thirteen divisions of Shaligrams by their number of chakras.
Sudarshan
Lakshmi-Narayan
Acyuta
Janardan, Caturbhuja
Vaasudeva
Pradyumna
Sankarshan
Purushottam
Navavyuha
Dasavatara
Anirudda
Ananta
Paramatma
Other sources, such as the Skanda Purana, give different lists (something I discuss more at length in my upcoming manuscript on interpretive traditions) or don't delineate numbers of chakras at all. Conversely, some Puranic sources say that any Shaligram with more than three chakras is automatically Mahavishnu. In practice, once a Shaligram reliably demonstrates more than four chakras, it tends to be read as one of the Mahavishnu types.
The Mahavishnu Multi-Chakra Shaligram can therefore also appear in a wide variety of forms. For many devotees, these Shaligrams are specific to Shaligram category-types listed in both the Praanatoshani Tantra and in the Skanda Purana, where the specific name of Vishnu associated with the Shaligram is determined by the number of visible chakras rather than by specific characteristics of shape or color. For this reason, many practitioners will identify multi-chakra Shaligrams using the name associated with their number of chakras followed by Mahavishnu (i.e., a four chakra Shaligram would be called Caturbhuja Mahavishnu, a ten chakra Shaligram would be called Dasavatara Mahavishnu, and so on). This naming convention, however, can become confusing in cases where other Puranic texts use the same deity designations, such as Acyuta (three chakras) or Pradyumna (six chakras) to identify other types of Shaligrams in their own right. For example, Pradyumna Shaligrams are also mentioned in the Brahma Vaivarta Purana, but are identified by criteria other than their number of chakras.
Also referred to as Chaturbhuj Shaligrams overall, Mahavishnu shilas are particularly sought after for their capacity to shield individuals and households from snakes, evil spirits, and restless ghosts. In other cases, they are prized for their capacity to create atmospheres of holiness and devotion marked by creative energies, innovation, and good luck. In Shakti Hindu traditions, Mahavishnu Shaligrams are sometimes referred to as Sri Chakra or Sri Yantra Shaligrams. In this interpretation, the multiple interlocking chakras are seen as representations of a yantra of nine interlocking triangles that radiate outwards from a central point. As a junction point between the manifest (physical) and unmanifest (divine) world, these Shaligrams are therefore considered to be the form of the goddess Sri Lalitha or Tripura Sundari, "the beauty of three worlds" (an aspect, not of Lakshmi but of the goddess Parvati).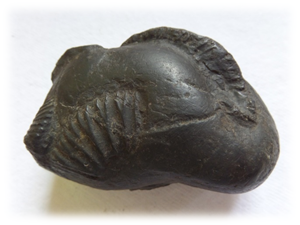 It is also important to note that multi-chakra Shaligrams can be interpreted as being multi-deity stones as well and some Shaligram interpretive traditions do just this (such as the two-chakra Ram-Sita Shaligram and the multi-chakra Radha-Krishna-Shrikara Shaligram). This means, ultimately, that while chakra is the most common and probably most referenced Shaligram characteristic, the particular appearance and number of spirals on a shila can mean different things depending on the authoritative sources one uses to read it. It can also vary given the Shaligram's other characteristics, such as set, color, and vadana. But in the end, visible chakras are always considered auspicious and, for the most part, the more the merrier.